"Between the vast sky and the boundless earth, flocks and herds appear as grass bends to wind." You can see countless flocks and herds and lots of yurt tent in the Prairie just like a painting or like poetry. Yurt tent with national characteristics is the most attractive for visitors. That is why we designed a new yurt glamping tent which can suit a variety of environments. It may change the disadvantages of traditional Mongolian yurt.
It is no different for shape between our new yurt glamping tent and traditional type, but the materials are totally different. The traditional yurt normally is made up of stand wood, felt and rope. However, MOXUANJU yurt glamping tent consists of the aluminum frame and double coated PVC covers which is water-proof, wind resistance, rust-proof, anti-UV, antiseptic. In the meanwhile, our yurt tent is modular design so easy installation and small volume are also advantages. Good for the herdsman for removal and suitable for camping.
Our yurt glamping tent dome roof design which can prevent water and snow, and also has many colors for the option with different pattern or logo on the covers, especially Mongolia totem which can be more attractive. We can install rolling door and windows inside of yurt which will be good for air flow. Our yurt has 5m\6m\8m\10m\12m diameter size for choice. We also can offer customized type due to clients' demand.
Except for appearance design, interior decoration is also important. We have a glass door, screen windows, glass windows, AC, roof lining, flooring, bathroom, furniture etc accessories for you to make a special yurt hotel tent.
Floor Plan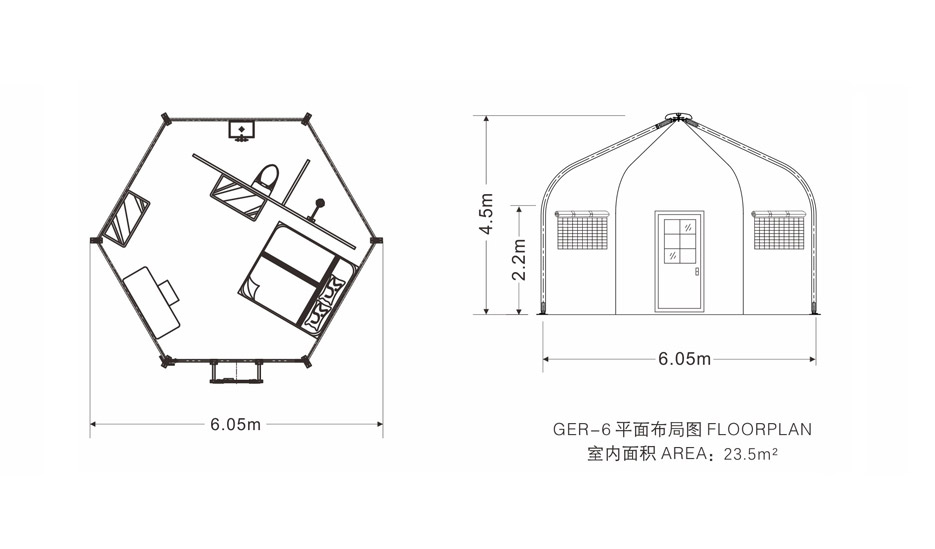 | | | | | |
| --- | --- | --- | --- | --- |
| Clear Span ( m ) | Eave Height ( m ) | Ridge Height ( m ) | Side Length ( m ) | Area  ( m2 ) |
| 6 | 2.2 | 4.5 | 3.02 | 23.5 |
| 8 | 2.2 | 4.9 | 3.06 | 45.5 |
| 10 | 2.2 | 5.4 | 3.09 | 73.5 |
| 12 | 2.2 | 5.9 | 3.11 | 106 |
Accessories List
Size :5m、6m、8m、10m、12m
Structure System : 6061-T6 Industrial aluminum profile.
Cover System :Double PVC coated polyester textile.
Cover Color: White (standard), optional printing
Optional Accessories: Furniture, household appliances, lighting, bathroom, composite floor, lining, curtain, glass door, etc.
Uses: Mongolian grassland campsite, residential tent campsite, grassland characteristic campsite, etc.