The Glamping Tent is a semi-permanent temporary building that requires both safe construction and good appearance. Tarpaulin waterproof, anti-aging, self-cleaning is what customers concern about.
1. The tent tarpaulin fabric should be waterproof, anti-aging and self-cleaning.
The tarpaulin fabric of Moxuanju Glamping Tent is a kind of perfect tarpaulin fabric made of PVC knife-scraped synthetic fiber cloth. It uses advanced processing technology to manufacture hotel tents. As an important part of the tent, tarpaulin is developed with the upstream manufacturer. The surface of the Glamping Tent fabric will be made of PVDF and base fabric anti-seepage and anti-seepage technology. It is not only waterproof but is also capable of self-cleaning and mildew proof. , anti-aging, flame retardant and so on.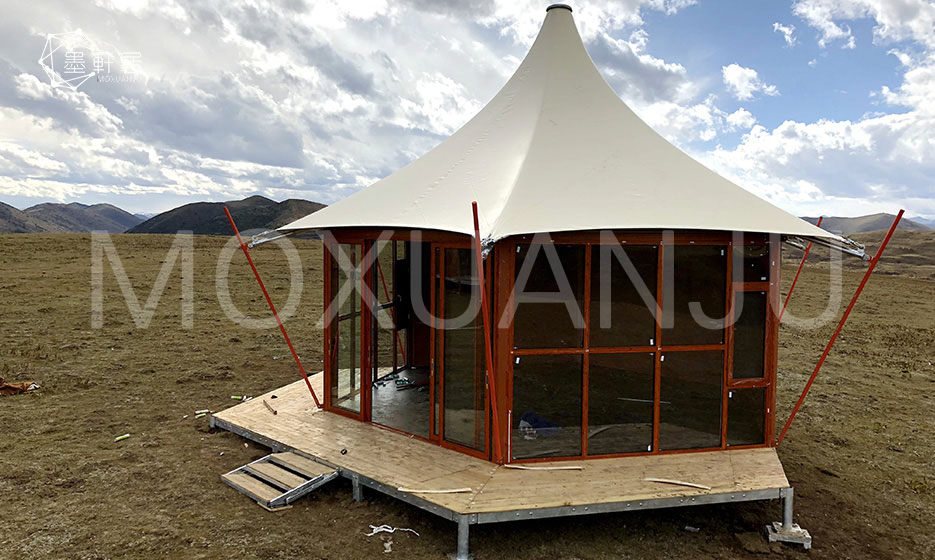 2, Glamping Tent tarpaulin fabric has a variety of color options
Glamping Tent is a fashionable product, a Glamping Tent integrating culture and tourism. For the Glamping Tent tarpaulin fabric, the conventional colors are silver gray, black, red, yellow, green, white, blue, beige, camouflage, etc. Functionally, it not only meets the needs of customers. but from the appearance, tarpaulin fabrics have a variety of color choices, which will be more literary, not only integrated into nature but will even add color to nature.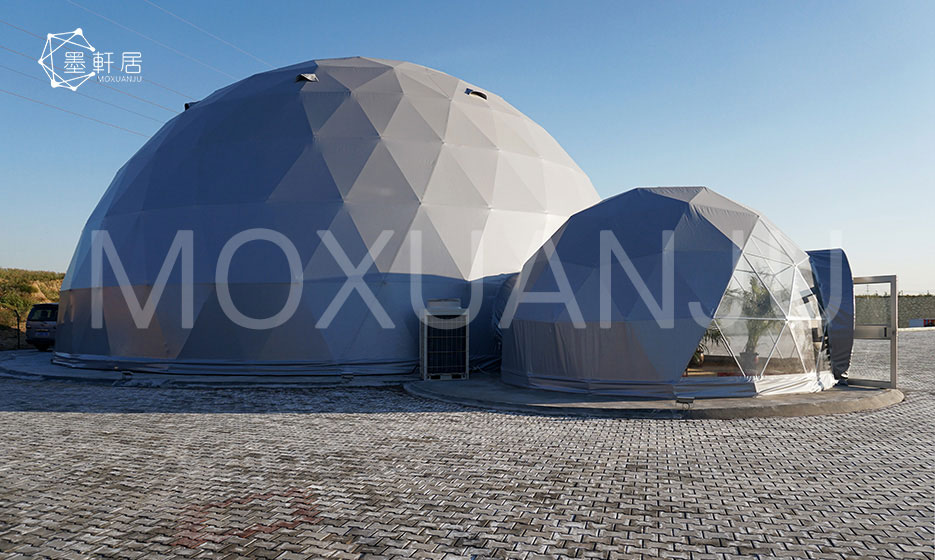 3, Glamping Tent tarpaulin can be customized personalized graphics
The fabric of the Glamping Tent tarpaulin can be customized according to customers' needs, or the DIY hotel theme color, anti-UV digital drawing or silk screen for all kinds of graphics printing, which will make a more colorful Glamping Tent.
With 21 years of experience in  Glamping Tent manufacturing – Moxuanju brand, Liri tent's subsidiary company, is committed to selecting excellent materials, to provide customers with better, more reliable Glamping Tent products.
Related Blog

Our Lodge Tent is not only used in glamping resorts but also used in commercial events. It is equipped with a large terrace, suitable for recreation, temporary storage, sales, etc.
Bring the enchantment of traditional Native American dwellings to your glamping resort with our large-scale Tipi glamping tents.
A comfortable and light outdoor camping is the best way for us to escape from the modern city. You can feel the breath of nature.