In order to attract tourists, tourist hotels have been offering various types of accommodation, among which the more popular is a glamping tent. One of the most attractive is glamping dome tent, but at the same time, people want to know How to make a glamping tent. The following MoXuanju will explain these problems one by one.
The first is the security of a glamping tent.
Glamping Dome tent adopts Q235 high strength steel tube material(surface hot-dip galvanizing treatment, white spray molding) generally, combined with aluminum alloy frame structure designed by professionals, coupled with some external facilities, very safe and firm. It can be said that when we built a glamping dome tent, we not only guaranteed security but also achieved a beautiful appearance and a spacious and comfortable interior.
How to solve the problem of ventilation and internal temperature?
In the impression of the most of people, Glamping Dome tent is a closed environment and it also has not ventilation installation, therefore, many clients will doubt that whether it is very hot in summer or the temperature will too low in the evening of Autumn and Winter in the glamping tent. Actually, don't need to worry about this problem. In the design of glamping tent, MOXUANJU is equipped with certainly quantitative ventilation window designed as zippered and there are window screening or tarpaulin on the window, which can prevent mosquito enter into or rainwater infiltrate. To guarantee indoor nice and cool in Summer, you also can equip with AC when setting up glamping dome tent. As for insulation measure, we will add some insulating material like insulated cotton and elastic cloth in the glamping dome tent, it not only heat preservation but also thermal insulation. Glamping dome tent also can be equipped with heating equipment like an electric radiator, heating radiator and carbon stove and so on. Even in a cold area, it also can guarantee the temperature of the tent inside.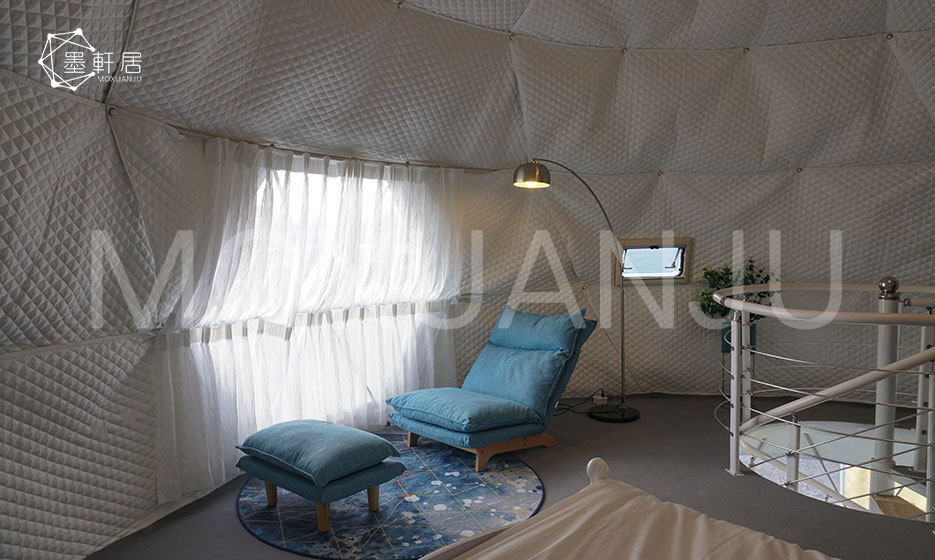 How to prevent rainwater enters into inside?
The best way is to set up a platform which can solve the problem of water leakage in glamping dome tent rainy day. As for the area with more rainfall and lower terrain, we can set up a platform for glamping tent. The advantage is able to solve rainwater leakage effectively and make the appearance of a glamping tent more elegant as well, which let people feel safer and cleaner.
Is it guarantee our privacy on Glamping Dome Tent?
It is a good choice for some hotels which is with the theme of nature and more original. Transparent design can make people feel integrated with their surroundings, it also can look up at stars in the evening, so to speak it is a very romantic experience. It can equip with a curtain in a tent inside, we can never mind the problem of privacy and a strong ray of light entirely.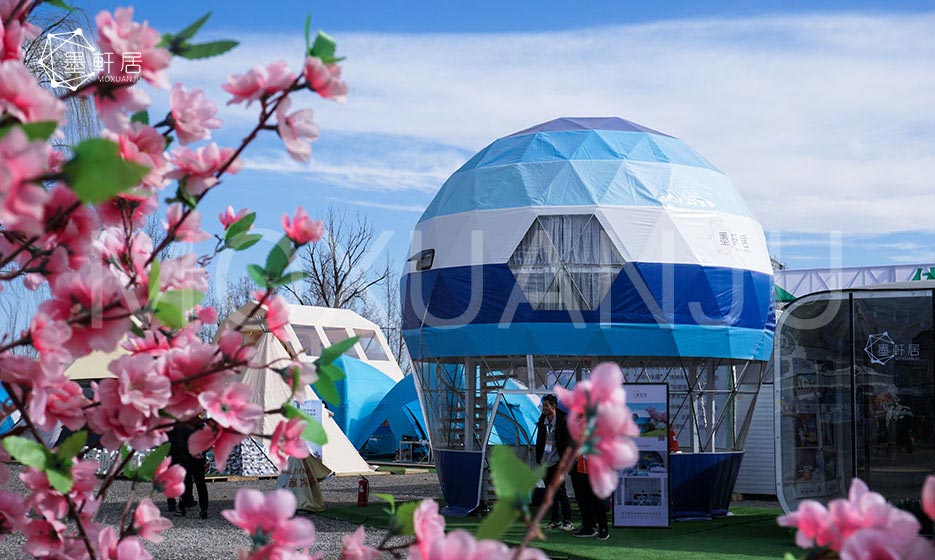 There are many successful cases of Glamping dome tent for MOXUANUJU, it was very professional and mature technology on Dome tent. What's more, the appearance and indoor environment of a dome tent, it can be customized on the basis of the demand for the hotel. If you need, please contact our team of MOXUANJU, we can offer a suitable solution for you.
Related Blog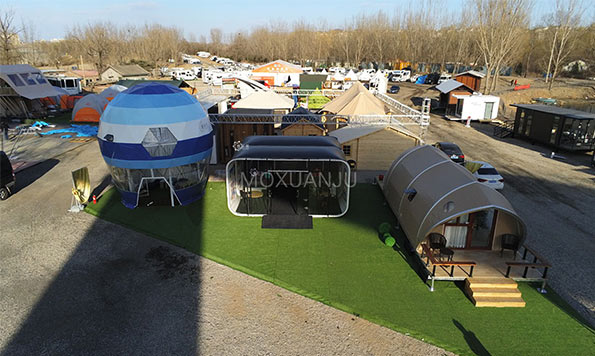 Accommodation is always the key for a trip. Characteristic Small Town and Camps, the demand for Glamping Tents is growing. Then where to buy Glamping Tents? Moxuanju is one of the specialized companies who focus on customized design for Glamping Tents. From design, manufacturer, renal and sell, we can provide one-stop service to you. Tent […]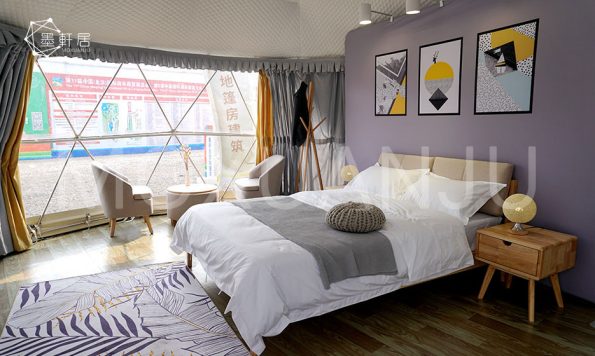 In nature, the appearance of glamping tent, which is stylish and beautiful, redefines and writes about our understanding and cognition of the hotel, and becomes the place of internet celebrities sign in. Glamping tent has become a new favorite of the moment, it is difficult to book a room which many people even take a […]
The crystal dome house is made of excellent materials and uses a transparent PC board to ensure beauty and peaceful coexistence with nature.