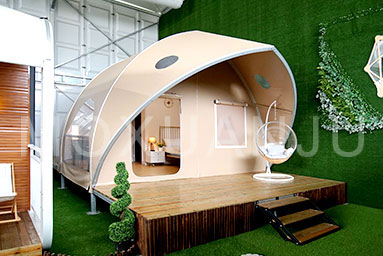 Woods, seaside, sunset,
what a perfect place for camping.
Away from disturbance,
it is romantic even picturing it.
Slowly approaching,
to pick up a shell left by the sea.
Bath water is ready,
so are the rest of your holiday to enjoy.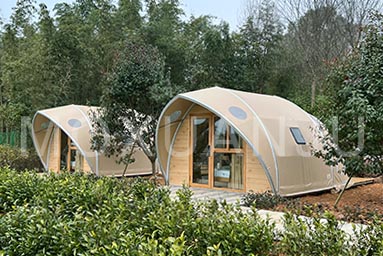 The shell shape glamping tent combines the elegant form of architecture and bionics, which is the best choice among various outdoor campsites. With an open platform to meet the needs of viewing from different angles, the sharp shell angle can provide shed from the rain and sunshine. The spacious platform attracts children and able to turned into a playground. There are mini, standard and luxury three types for choose.
Shell tent is suitable for outdoor camping resorts. It has a fresh and new design, and you can get a good impression in the primary impression. Comfortable big bed, living room, bathroom, and other configurations are all available. You can divide the tent into different functional layouts, and it has no different from a luxurious hotel.
Shell Glamping Tent makes its own spaces without steel and cement, living in the quietness of the mountains with a quiet posture.
You can choose milky white or camouflage design. The camouflage is almost rolled mountains and wilds into one, and it forms a landscape in the mountains and forests. There is a large viewing platform in front of Shell Glamping Tents, and you can feel the romance of reaching out for the stars.
The luxurious camping experience of both mountain forest and starry sky. Feel the nature in the tent, admire the starry sky in summer, and watch the snow in winter. Different seasons have different beautiful scenery. It will be a unique trip at any time.
Shell Glamping Tents Video
Shell Glamping Tent Solutions