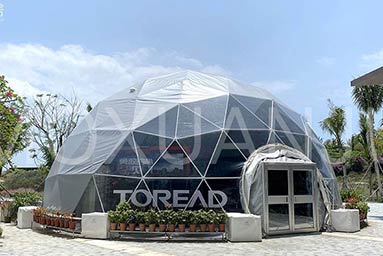 Characteristic and luxurious glamping tents have been popular on holiday in recent years.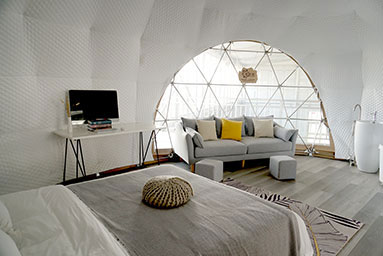 Compared with geodesic dome tent, this oval shape is more personalized. The shape from the long side looks like a goose egg. The overall longitudinal space becomes longer and more comfortable. You can make full use of space and arrange furniture reasonably.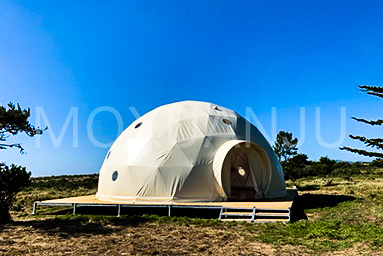 Meet the stars and the Milky way in the dark Lying in bed watching the stars It's not a five-star hotel that is excited But there are millions stars you can see when you look in the sky This might be probably the best interpretation of the dome glamping tent.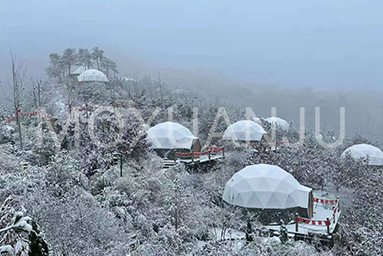 Meet stars and milky way in the night,
while lying in bed.
Not fancy hotels that take my breath,
but the 50,000 stars that shine on me.
As beautiful as a dream,
I wish I could stay here all night.
Living in the geodesic dome camping, we live a minimalist lifestyle and get closer to nature. It makes the visitors experience comfort.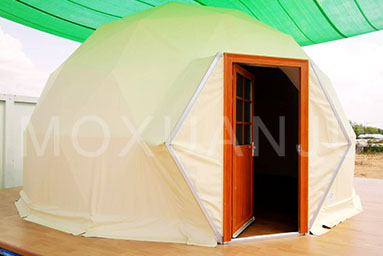 Enjoy the scenery and flowers in the day and fall sleep with stars at night, Perceive the beauty of nature and the power of all things.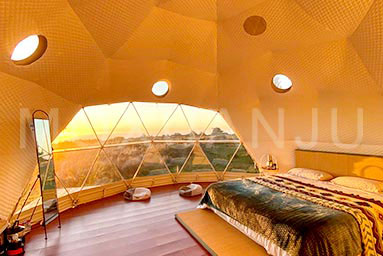 In addition to being used in a single geodesic dome hotel, it can also be used in multiple tents to form a series of villas.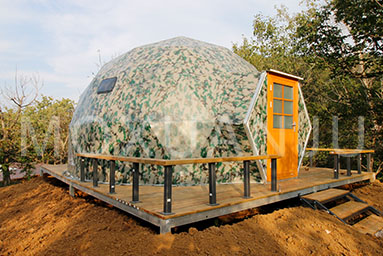 Nowadays, Starry Geodesic Dome Tent has become the"internet celebrity hotel" exist in all the camps of major scenic spots.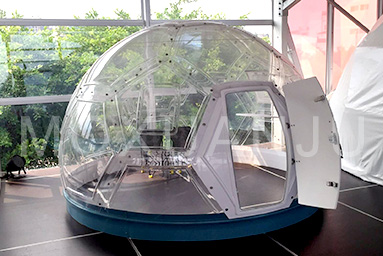 If you want to save money and have a good lodging experience, our Hard Panel Geodesic Dome is a good choice.
Geodesic Dome Glamping Video
Geodesic Dome Glamping Specification
Diameter
6m
7m
8m
Ceiling Height
3.52m
4.1m
4.68m
Indoor Area
28.3m²
38.5m²
50m²
Space Volume
70m³
110m³
168m³
Membrane Material
Double Sided PVC Coated Polyester Fabric
Certifications
Class B1 and M2 of Fire Resistance According to DIN 4102
Cover Color
White, Sand Yellow, Beige, Black, Silver Gray
Structure Material
6m: SUS 201 Stainless Steel
7-8m: Steel Q235  Hot-dip,Galvanised,powder coated white Color
Windloads
100km/h(0.5KN/m²)
Windows
Circular or triangular transparent membrane Windows available on request
Optional Accessories
Furniture,Home Appliances,Bedding,Lighting,Sanitary Ware,Flooring,Luxury Curtain,lnner Lining (insulation cotton)Color,Thickness are Optional Aluminum Alloy Single-Wing Door (Wood Patter Painting) Single Door Size: 1m x 2.1m Honeycomb Curtain Electric Skylight Solar Fans
Purpose
Scenic tent camp,Guesthouse Tent Camp,Special Wild Camp,Garden Landscape,Hot Spring Vacation,Water Park Lounge,Leisure Travel Specialty Restaurant,etc.
Geodesic Dome Glamping Solutions